If you are a pet owner, you want the best level of care possible for your four-legged friend. Whether it's a quick haircut, a routine checkup, or a potentially serious health issue, it just makes sense that you'd want to work with someone that you know you can trust. In this day and age, it's difficult to find businesses that you can count on to make sure the job gets done thoroughly. The good news is that if you're looking for a veterinarian in New Market, we are here to offer a number of different services to suit your needs.
As we mentioned, it can be a challenge to find a vet that you can count on to do the right thing and provide the best care for your pet. So what qualities should you look for when choosing a clinic? We'll be breaking down our best advice below, but if you have any questions, we'd love to help! Feel free to contact us if you need anything, or keep reading below to see the advice we have about what you should be looking for if you want the best possible care for your pets.
Your Local Vet Should Be…
Kind
Nothing puts pets and people alike at ease quite like working with a vet that is kind. There's nothing worse than walking into an appointment and finding that the person you're working with seems indifferent towards your situation. Needless to say, this isn't the kind of thing that instills confidence in you, and perhaps worst of all, it can make your pet especially nervous about the entire situation.
On the other side of the coin, there are those people that you instantly like when they walk into the room. Regardless of the situation, they know how to put you at ease and your pets seem to take to them right away. That's exactly what each member of our staff strives to bring to the table! You care about your pet, and we do too. In other words, we love to go above and beyond to make sure you and your furry friend feel at home during your visit because we know how much that means to people. Offering kind compassion is the cornerstone of our animal hospital and we think you'll feel that from the moment you step foot through our doors.
Our staff is comprised of veterinarians Dr. Lour and Dr. Chand among many others who strive to provide the absolute best level of care possible. One of the ways we do this is by putting together a team who has plenty of experience. For example, Dr. Chand has over a decade of experience in practicing emergency medicine and surgery. Since 2006, he has focused specifically on small animal medicine with a goal of helping pets to live happy and healthy lives. Dr. Lou is also a doctor in veterinary medicine and he brings years of experience to the table, helping to put patients and pets at ease.
The rest of our team is comprised of people who bring their own unique experiences and skills to the table. Our goal was to put together an animal hospital comprised of people with many different backgrounds in order to be as well-rounded as possible. The end result is a pet clinic that is equipped to handle any situation with positivity. Whether you're coming in to have your dog groomed or you'd like us to board your cat while you go on a short vacation, you can rest assured that we are equipped to handle your pet's needs.
Thorough
There's nothing in the world like having a pet. After all, there's a reason that people say they're like a part of your family! That's why it's so important to know that no matter the situation, your pet will get the care that he or she needs. Our pet hospital prides itself on being thorough and that's why we're proud to offer several different services to suit your specific needs. Speaking of which…
Services We Offer
What do you do when your pet has an emergency outside of our office hours? First of all, don't panic, because we offer on-call ER services. We know that emergencies don't happen on a schedule — and in many cases, they don't happen at a time that is convenient to you. Luckily, all you have to do is reach out to us to let us know that you're coming and we'll spring into action to give your pet the attention that he or she requires. When an emergency situation presents itself, we will generally have a team consisting of at least one vet and a handful of technicians who are working alongside of one another to save your pet.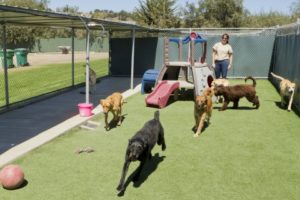 You work hard day in and day out, and that's something that obviously takes a toll. The solution, of course, is to get out of town and treat yourself to a vacation. Of course, this is something that's easier said than done when you have a pet to care for. Your animals require you to be there for food, exercise, and companionship, and leaving them behind is the biggest challenge that you have to face. Not to worry though, because our boarding services mean that your dogs and cats can stay with us! We provide the best care for your pets while you're away, ensuring that you're able to make the most of your vacation without having to worry about what is happening back at home. We do require certain vaccinations if you'd like to board your pets with us, but once that's taken care of, we're happy to provide your pets with the boarding services you need to truly be able to rest easy.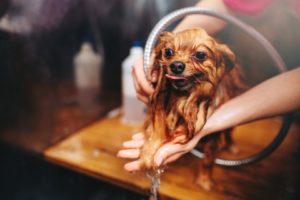 Have a spaniel that needs his hair trimmed a bit? Perhaps a border collie that's in need of a good bath? A cat that needs her nails cut? Whatever the case may be, our New Market pet clinic is happy to offer grooming services for your pets, ensuring that they look and feel their best! Whether it's because of excessive shedding, a dirty coat, or something else entirely, if your pet is in need of quality grooming services, look no further. Our grooming services do require canines and felines to have their rabies vaccines, but if your pets are due for vaccinations, we can help with that as well.
Searching for a Veterinarian That's Open on Sunday?
At New Market Animal Hospital, our number one priority is to provide comprehensive care for your pets. That's why we're open 7 days a week. On most days, our clinic is even open into the evening, allowing you to bring your pet in after you get off of work for the day. After all, finding the time in the middle of a busy workday is not possible for many people. Not to worry though, because we're here to accommodate your needs! With availability on Saturdays and Sundays as well, we offer pet owners plenty of convenient opportunities for appointments, ensuring that your pets can always get the care they need.
We've been a part of the community here in New Market and the surrounding area for nearly four decades and in that time we've developed a reputation for being the go-to pet clinic in our neck of the woods. We'd even invite you to take a look at our reviews to see for yourself what others are saying about us. In this day and age, we believe that it's a huge benefit to be able to learn about the experiences that other people have with businesses and that's why we're thrilled to report that the majority of our patients and their owners have been very satisfied with the care that they've received when visiting us.
Schedule an Appointment Today
No matter what you're looking for in a local animal clinic, we think you'll find it right here at New Market Animal Hospital. Have a question for us? Ready to schedule an appointment for your dog or cat? Whatever the case, we'd love to hear from you! Click here to make an appointment or feel free to call our office.
We hope that the information above is helpful for you as you choose the best vet for your animal, and we sincerely hope that you'll choose us to provide them with the best care. We look forward to hearing from you!